SmartBoat - 8 Input, 2 Thermocouple, W/ CAN2 and Serial
Part NumberASM-CES-T1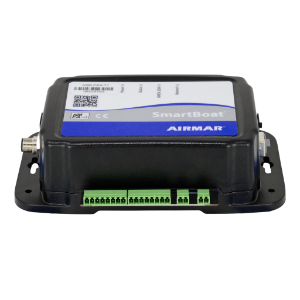 The SmartBoat® system is uniquely designed to connect, control, and communicate sensor data across multiple networks regardless of sensor output protocols and peripheral types. SmartBoat delivers universal interfaces to the varied sensors and protocols onboard and provides the ability to control and manage what is required of each one, including setting alerts, AllowList/BlockList of PGNs, sensor state controlled actions and more. The system also significantly reduces the required interface devices, cabling, and labor currently used for conventional networking systems, saving thousands on every install. Never has the marine market had such versatility, affordability, and rich support capabilities.
What Sets SmartBoat Apart?
SmartBoat modules are certified for use with NMEA 2000 networks and designed specifically for marine applications (IP67 rated). They are the marine components of AIRMAR's new SmartFlex™ System products which support multiple network standards across many markets.

SmartBoat modules all share a common set of features including built-in wireless networking support and browser-based configuration and management.

Basic models provide highly configurable sensor interface for a wide range of analog devices and sensors including voltage, current loop sensors, resistive senders, thermistor, and thermocouple temperature sensors, run detection, switch detection, relay control. And digital senders such a fuel flow meters, and engine data are also easily connected.

Advanced models add support for multi-network bridging and management including multiple NMEA 2000 networks, NMEA 0183 support, and SAE J1939 engine interfaces.

Digital Fuel Monitor interface using SmartBoat's exclusive single and dual chamber models. These CAN based DFM sensors are easily connected to the ASM and configured using SmartFlex View. Fuel flow data is then available via NMEA 2000.

Browser-based interface, SmartFlex View, is accessed from any laptop, tablet, or mobile device, which features intuitive, menu-driven navigation for set up, control and management of connected sensors and networks.

Industry leading alerting and automation via SmartFlex Alert, and SmartFlex Filter provide the ability to directly configure interfaced sensors to report, alert, and filter data through user programmed parameters.

The SmartBoat System is ideal for boat builders and installers. System settings are easily saved and cloned for duplication on future installations.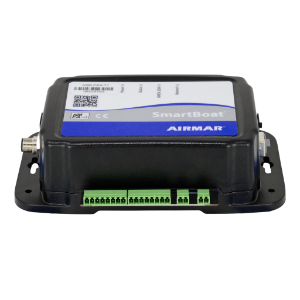 Built-in wireless networking with browser-based configuration and management tools.

Wireless, onboard user interface eliminates the need for proprietary USB gateways and software.

SmartFlex View embedded configuration software is accessed wirelessly from any Wi-Fi capable device.

Industry leading, user configurable alerts and automation via built-in SmartFlex Alert

SmartFlex Filter - allows detailed filtering of PGN data across multiple networks or devices.

Easily save and clone system settings for backup and repeated system installations.

Ideal for new builds, retrofits and enhancing existing NMEA 2000® networks.




CES models include a second CAN interface, serial input, Ethernet and dual USB connections.

Secondary CAN connection can be configured for NMEA 2000®, J1939 to NMEA 2000® conversion or attaching Digital Sensors.

Serial connection can be used for NMEA0183 to NMEA 2000® or J1709/J1587 to NMEA 2000® conversion.

Ethernet connection allows modules to be hard-wired to a switch or router for system integration.

T1 models add 10 flexible, software-configurable sensor channels for conversion to industry-standard NMEA 2000® PGNs.

8 user-configurable sensor channels accept any combination of current loop, resistive, thermistor or binary switch inputs.

2 dedicated, configurable thermocouple channels accept a wide range of K, J, T and E Type sensors.

Screw-type, pluggable interface connectors provide secure wire installation and simplify sensor attachment.

Connection Type: 

Screw Terminals

Connector: 

NMEA2000® Micro