Transducer Tester and Test Block Kit
Part NumberTDT1000-PACKAGE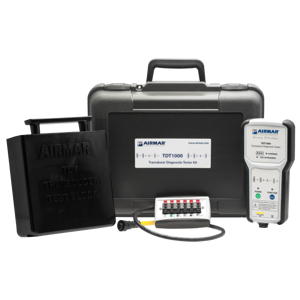 Eliminate the guesswork and determine if a Transducer is in proper working condition quickly with AIRMAR's TDT1000, the first Transducer diagnostic test device for use with most Transducers. Connect directly to AIRMAR's database via the SensorCheck™ App and compare the Transducer onboard the vessel to its original, factory-approved test results.
Kit Contains: test unit, test block, terminal block, power supply and carrying case.
Test Cables sold separately.