DST800L Smart™ Sensor Thru-hull
Part NumberDST800L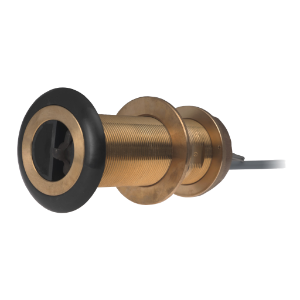 The DST800L is a Smart™ Triducer® Multisensor that offers depth, speed, and temperature functions in one thru-hull fitting. The long-stemmed transducer is designed for use in thick-hulled, wooden boats or vessels with a steep deadrise. The optional high-performance fairing vertically orients the beam for strong return echoes, resulting in optimal performance even at higher speeds. And being a retractable design, the insert can be removed for servicing or storage. DST800L sends data to any NMEA 0183 or NMEA 2000® display or network.
Airmar's Smart Sensors have embedded microelectronics—the transducer element and signal processor are only millimeters apart. The signals from the sensors are processed right inside the housing itself. All that is needed to receive depth, speed, and Temperature data is a single cable into a compatible network or display.
The wide, port-starboard, fan-shaped beam is able to find the bottom even when installed on a high-deadrise hull or a heeling sailboat.
NOTE: The DST800L is a longer version in a B122 housing.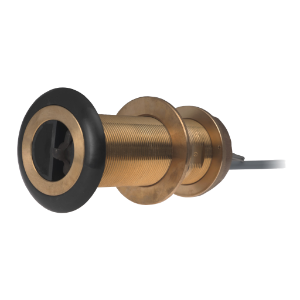 Depth, speed, and temperature in one housing
235 kHz frequency prevents mutual interference with other echo sounders on the vessel
Depth performance from 500 mm to 185 m (1.6 to 600')
Wide, port-starboard, fan-shaped beam is able to find bottom even when installed on high-deadrise hull or heeling sailboat
Fast-response temperature sensor provides ±0.2°C (±0.1°F) accuracy
Available as a Smart Sensor at 235 kHz or an analog output sensor operating at 200 or 235 kHz
Available in NMEA 0183 or NMEA 2000 standard
Bronze housing with water valve
NMEA 2000 certified or NMEA 0183 cable

Acoustic Window: 

Urethane

Cable-Length: 

NMEA 0183: 10 m (33'), NMEA 2000®: 6 m (20')

Common Use: 

Cruising/Racing Sailboats, Leisure/Yachting, Fishing

Conventional Beam: 

10°x44°

Functions: 

Depth, Speed, Temperature

Hull Material: 

Fiberglass or wood

Max Deadrise: 

Up to 28° with fairing

Max Depth: 

500 mm (1.6') Up to 70 m (230')—NMEA 0183, Up to 100 m (330')—NMEA 2000

Mounting Style: 

Low Profile Thru-Hull

Power Rating: 

60 W / NMEA 0183 & 100 W / NMEA 2000

Protocol Output: 

NMEA 0183/NMEA 2000®/ Analog options

Pulses: 

20,000 p/nm* (5.6 Hz per knot)—*p/nm = pulses per nautical mile

Speed Range: 

Up to 45 knots

Temperature Accuracy: 

±0.5°C (±1.8°F)

Usable Shaft Length: 

102 mm (4.00")

Voltage: 

10 to 25 VDC - NMEA 0183, 9 to 16 VDC - NMEA 2000

Water Temperature: 

-10° to 40°C (14° to 104°F)