B75HW Chirp-ready Tilted Element™ Thru hull
Part NumberB75HW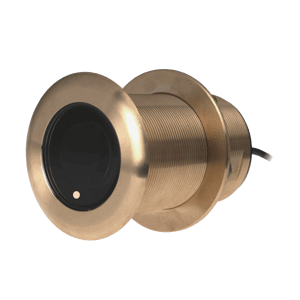 Airmar's low profile Chirp-ready transducer models are the perfect addition to smaller boats such as center consoles. The B75HW combines the benefits of the high frequency band for amazing target separation on baitfish and schooling gamefish, with a wide 30° beamwidth for maximum coverage under the boat. The B75HW transducer delivers up to 100 kHz of total bandwidth in just one installation and delivers amazing coverage under the boat in depths to 106 m (350').
B75HW transmits across the following bandwidth:
High frequency 150 to 250 kHz
Tilted Element™ transducers have the ceramic element fixed at a 20°, 12° or 0° angle within the housing. The transducer is installed almost flush to the hull. The tilt of the element corrects for the hull deadrise by orienting the beam directly down. This ensures maximum echo returns to the transducer for more accurate depth readings.
The B75HW is available in three Tilted Element models:
Fixed 20° tilted version for 16° to 24° hull deadrise
Fixed 12° tilted version for 8° to 15° hull deadrise
Fixed 0° tilted version for 0° to 7° hull deadrise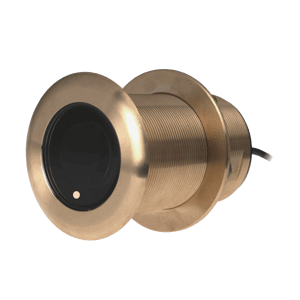 Depth and fast-response water-temperature sensor

600 W with a maximum depth performance to

106 m (350')

High frequency: 150 to 250 kHz

High frequency delivers great shallow-water performance, bottom detail, and clear fish-target returns

Low-profile, thru-hull housing provides good resolution at speed when installed properly

Bronze housing for use on stepped, planing or displacement hull

Acoustic Window: 

Urethane

Freq Hi Wide: 

150-250 kHz

Functions: 

Depth, Temperature

High Frequency: 

150-250 kHz

Hole Size: 

70 mm (2-13/16")

Hull Material: 

Fiberglass or wood

Max Vessel LOA: 

Up to 8 m (26')

Mounting Style: 

Tilted Element Thru-Hull

Single or Dual Frequency: 

CHIRP-Ready Single-Band