B175MW Medium Ultra-Wide Tilted Element™ Thru-Hull
Part NumberB175MW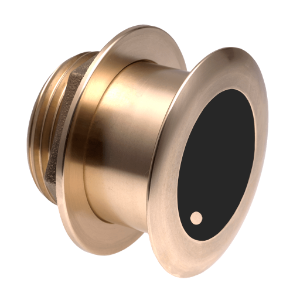 AIRMAR's innovative transducer designs have revolutionized the fishing world, and they continue to do so with the NEW Chirp-ready B175 Medium Ultra-Wide (MW) Tilted Element™ Thru-hull transducer. The B175MW takes transducer design and performance to a whole new level by using medium frequency (60-100 kHz) with an incredible ultra-wide beamwidth ranging from 57-73° port-starboard to 16° average fore-aft. Maximum coverage under the boat is achieved with this medium-frequency transducer, serving anglers who target pelagic species in the upper water column.
Airmar's new Medium Ultra-Wide models are perfect for seeking deeper species with a frequency band from 60-100 kHz. When paired with our other popular models such as the B275LHW, provides the angler with a broad set of frequencies (Low, Medium-Wide, High-Wide) to interrogate targets from deep to shallow.
The B175MW Tilted Element Thru-hull is a 1 kW transducer housed in one of AIRMAR's most popular Tilted Element housings which includes a ceramic element fixed at a 20°, 12° or 0° angle. Because the transducer is installed almost flush to the hull, the tilted element corrects for the hull deadrise and orients the ceramic element vertically to ensure maximum echo returns to the transducer.
The B175MW is available in three Tilted Element models:
Fixed 20° tilted version for 16° to 24° hull deadrise
Fixed 12° tilted version for 8° to 15° hull deadrise
Fixed 0° tilted version for 0° to 7° hull deadrise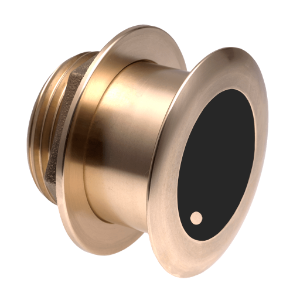 Depth and fast-response water-temperature sensor
1 kW with depth tracking down to 400 m (1,300')
Medium frequency: 60-100 kHz

57° to 73° beamwidth (port/starboard)
16° average fore/aft

40 kHz of total bandwidth from one transducer
Medium frequency for superior mid-depth performance and excellent fish-target separation
Bronze housing for use on stepped, planing or displacement hull
Low-profile, thru-hull housing yields good resolution at speed when installed properly
Exclusive Xducer ID® technology

Acoustic Window: 

Urethane

Functions: 

Depth, Temperature

Hole Size: 

95 mm (3-3/4")

Hull Material: 

Fiberglass or wood

Max Vessel LOA: 

Up to 11 m (36')

Medium Frequency: 

60-100 kHz

Medium Frequency Beamwidth: 

57° to 73° (Port/Starboard) X 16° average (Fore/Aft)

Mounting Style: 

Tilted Element Thru-Hull

Single or Dual Frequency: 

Single

Water Temperature: 

-10° to 40°C (14° to 104°F)

Medium-Wide Beamwidth: 

57° to 73° beam p/s 16° average f/a