220WX WeatherStation® Instrument
Part Number220WX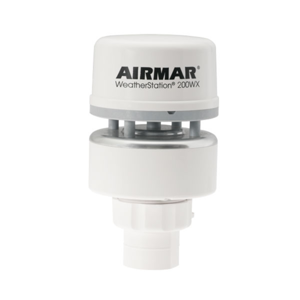 NOTE: AIRMAR NO LONGER MANUFACTURERS THIS MODEL, PLEASE SEE WEATHERSTATION® INSTRUMENTS FOR AVAILABLE MODELS.
Commercial Fishing
The patented 220WX is Airmar's solution for commercial-fishing weather-monitoring applications. Feature rich in a durable, rugged, small footprint that is IPX6 rated, the 220WX calculates the theoretical wind speed and direction based upon the apparent wind, speed of the vessel, and vessel heading.
The 220WX has an internal, 10 Hz GPS and three-axis electronic compass. These sensors give heading, position, speed-over-ground, and course-over-ground functionality that is required for theoretical wind-data processing and mobile applications. A 3D compass with dynamic stabilization provided by the three-axis rate gyro also enhances the rate-of-turn data.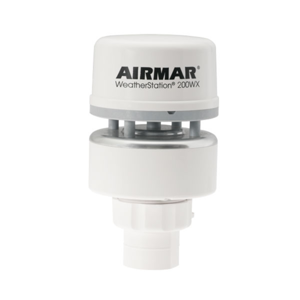 Ultrasonic measurement of apparent and theoretical wind speed and direction
Barometric pressure
Air and wind chill temperature
GPS position, speed over ground, and course over ground
Three-axis, solid-state compass with dynamic stabilization
Three-axis rate gyro supplies rate-of–turn data
Three-axis accelerometer for best-in-class pitch and roll information
Housing IPX6 rated for water-ingress protection
Data output via a single cable (various lengths available)

NMEA 0183/ASCII serial data protocol over RS-232 interface
NMEA 2000® protocol over CAN

Options

Relative humidity module

Enables dew-point and heat-index calculations
Field serviceable
WeatherStation housing rated IPX4

Air Temp Accuracy: 

±1.1°C at 20°C

Air Temp Range: 

-40 to 80°C (-40 to 176°F)

Air Temp Resolution: 

0.1°C

Apparent Wind Speed Angle: 

Yes

Barometric Pressure Accuracy: 

±0.5 hPa at 25°C (or better)

Barometric Pressure Range: 

300 to 1100 hPa

Barometric Pressure Resolution: 

0.1 hPa

Certs And Standards: 

CE, IPX6 (IPX4 with optional Relative Humidity sensor), RoHS, IEC61000-4-2, IEC60945, IEC60950_1C, IEC60950_22A, EN55022, EN55024, EN14982

Communications Available Hardware Interface: 

Serial RS-232, Serial RS-422, CAN

Communications Available Protocol: 

Comma delimited ASCII, NMEA 0183, NMEA 2000

Communications Serial Output Rate: 

1 Hz typical. User selectable. 10 Hz maximum recommended

GPS Position Accuracy: 

3 m (10') CEP

Mounting Thread: 

Standard 1"-14 UNS (3/4" NPT optional)

Note: 

Cables sold separately

Operating Temp Range: 

-25 to 55°C (-13 to 131°F)

Optional RH Accuracy: 

±5% RH at 0 to 90% RH at 20°C

Optional RH Range: 

0 to 100% RH

Optional RH Resolution: 

0.1% RH

Pitch Roll Accuracy: 

±1° in range of ±30°

Pitch Roll Measurement Type: 

MEMS

Pitch Roll Resolution: 

0.1°

Power Supply Current: 

<75 mA (<0.9 W) at 12 VDC

Power Supply Voltage: 

9 to 40 VDC

Theoretical Wind Speed and Direction: 

Yes

Three Axis Compass Dynamic Heading Accuracy: 

2° dynamic heading accuracy

Three Axis Compass Range: 

0 to 359.9°

Three Axis Compass Resolution: 

0.1°

Three Axis Compass Static Heading Accuracy: 

1° static heading accuracy

Waterproof Rating: 

IPX6 (Relative Humidity/IPX4)

Wind Direction Accuracy: 

±3° at 10 m/s

Wind Direction Calculations: 

User configurable damping

Wind Direction Range: 

0° to 359.9°

Wind Direction Resolution: 

0.1°

Wind Speed Accuracy: 

5% at 10 m/s (19 knots) at 4 angles

Wind Speed Calculations: 

User configurable damping

Wind Speed Range: 

0 to 40 m/s (0 to 89 MPH)

Wind Speed Resolution: 

0.1 m/s

Serial Data Output Protocol

NMEA 0183 Sentence Structure – Comma Delimited ASCII Format
$GPDTM
GPS Datum Reference
$GPGGA
GPS Fix Data
$GPGLL
Geographic Position—Latitude and Longitude
$GPGSA
GNSS DOP and Active Satellite
$GPGSV
Satellites in View
$GPRMC
Recommended Minimum GNSS
$GPVTG
COG and SOG
$GPZDA
Time and Date
$HCHDG
Heading, Deviation, and Variation
$HCHDT
True Heading
$HCTHS
True Heading and Status
$TIROT
Rate of Turn
$WIMDA
Meteorological Composite
$WIMWD
Wind Direction and Speed
$WIMWV
Wind Speed and Angle
$WIMWR
Relative Wind Direction and Speed
$WIMWT
Theoretical Wind Direction and Speed
$YXXDR
Transducer Measurements

CAN Data Output Protocol

NMEA2000® Output Message Structure

59392

ISO Acknowledgement

060928

ISO Address Claim

126208

Acknowledge Group Function

126464

PGN List

126992

System Time

126996

Product Information

126998

Configuration Information

127250

Vessel Heading

127251

Rate of Turn

127257

Attitude

127258

Magnetic Variation

129025

Position and Rapid Update

129026

COG and SOG, Rapid Update

129029

GNSS Position Data

129033

Time and Date

129044

Datum
129538

GNSS Control Status
129539

GNSS DOPs
129540

GNSS Sats in View
130306
Wind Data
130310
Environmental Parameters
130311
Environmental Parameters
130312
Temperature
130313
Humidity
130314
Actual Pressure
130323
Meteorological Station Data