120WXH WeatherStation® Instrument
Part Number120WXH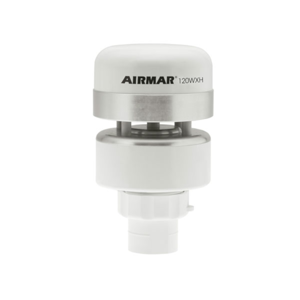 NOTE: AIRMAR NO LONGER MANUFACTURERS THIS MODEL, PLEASE SEE WEATHERSTATION® INSTRUMENTS FOR AVAILABLE MODELS.
Heater for Ice-prone Areas
The 120WXH has been carefully designed with a highly effective, thermostatically controlled, heating system for operation in ice-prone areas—both onshore and offshore. The heater element keeps the wind channel free of snow and ice. Reliability and performance, along with no moving parts, makes the 120WXH the model of choice in cold climates.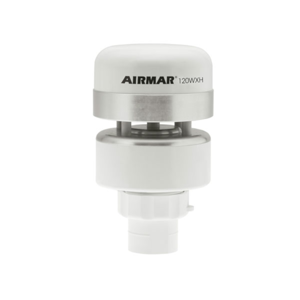 Ultrasonic measurement of apparent wind speed and direction
Thermostatically controlled heater element
Barometric pressure
Air temperature
Wind chill
Housing rated IPX6 for water-ingress protection
Data output via a single cable (various lengths available)

NMEA 0183 serial data protocol over RS-422 standard interface or RS-232 interface
NOTE: The 120WXH cannot be used with an NMEA 2000® CAN bus network.

Air Temp Accuracy: 

±1.1°C at 20°C

Air Temp Range: 

-40 to 80°C (-40 to 176°F)

Air Temp Resolution: 

0.1°C

Apparent Wind Speed Angle: 

Yes

Barometric Pressure Accuracy: 

±0.5 hPa at 25°C (or better)

Barometric Pressure Range: 

300 to 1100 hPa

Barometric Pressure Resolution: 

0.1 hPa

Certs And Standards: 

CE, IPX6, RoHS, IEC61000-4-2, IEC60945, IEC60950_1C, IEC60950_22A, EN55022, EN55024, EN14982

Communications Available Hardware Interface: 

Serial RS-232, Serial RS-422

Communications Available Protocol: 

Comma delimited ASCII, NMEA 0183

Communications Serial Output Rate: 

1 Hz typical. User selectable. 10 Hz maximum recommended

Heater Supply Current: 

<2.5 A (<60 W) at 24 VDC

Mounting Thread: 

Standard 1"-14 UNS (3/4" NPT optional)

Note: 

Cables sold separately

Operating Temp Range: 

-25 to 55°C (-13 to 131°F)

Operating Temp Range Cycles: 

Heater cycles on when sensor reaches 1°C

Operating Temp Range Heater: 

-40 to 55°C (-40 to 131°F)

Power Supply Current: 

<30 mA (<0.7 W) at 24 VDC

Power Supply Voltage: 

12 to 24 VDC

Recommend Use: 

Marine and Land Based

Wind Direction Accuracy: 

±3° at 10 m/s

Wind Direction Calculations: 

User configurable damping

Wind Direction Range: 

0° to 359.9°

Wind Direction Resolution: 

0.1°

Wind Speed Accuracy: 

5% at 10 m/s at 4 angles

Wind Speed Calculations: 

User configurable damping

Wind Speed Range: 

0 to 40 m/s (0 to 89 MPH)

Wind Speed Resolution: 

0.1 m/s

Serial Data Output Protocol

NMEA 0183 Sentence Structure – Comma Delimited ASCII Format
$GPDTM
GPS Datum Reference
$GPGGA
GPS Fix Data
$GPGLL
Geographic Position—Latitude and Longitude
$GPGSA
GNSS DOP and Active Satellite
$GPGSV
Satellites in View
$GPRMC
Recommended Minimum GNSS
$GPVTG
COG and SOG
$GPZDA
Time and Date
$HCHDG
Heading, Deviation, and Variation
$HCHDT
True Heading
$HCTHS
True Heading and Status
$TIROT
Rate of Turn
$WIMDA
Meteorological Composite
$WIMWD
Wind Direction and Speed
$WIMWV
Wind Speed and Angle
$WIMWR
Relative Wind Direction and Speed
$WIMWT
Theoretical Wind Direction and Speed
$YXXDR
Transducer Measurements