This page describes the newer versions of the B744V and B744VL transducers, sometimes called the B744VC and B744VLC. These versions replaced the previous models in 2009. The newer versions have a second retaining cap and do not have a clevis pin through the top. The B744V and B744VL transducers are not mix and match transducers. They have a fixed 10-meter cable attached and cannot easily be used with brands of equipment other than the one they were made for. Some adapters are available.
The depth and temperature sensors are located inside the bronze body. If the temperature sensor has failed, a replacement active insert should be installed. If the depth sensor fails, the transducer must be replaced.
The transducer measures speed by using a magnetic paddlewheel which triggers a Hall effect integrated circuit inside the bronze body. If your speed sensor is not functioning you should first check that the paddlewheel is intact and turning freely. Damaged paddlewheels can be replaced using available kits. If the speed insert is damaged, it can be replaced with a speed-only insert. If the speed function is not working, but the paddlewheel and insert seem intact, then you will need to install an active insert that contains replacement speed and temperature circuitry. You will also need to use an active insert if the temperature sensor has failed. The active inserts have a cable attached and this is to be spliced into the existing transducer cable using the junction box provided with the insert. Instructions are included.
Before contacting us about parts, make sure you have the Airmar part number from the label on the transducer cable (31-xxx-xx).
All measurements shown are from the very top to the very bottom of the black plastic body.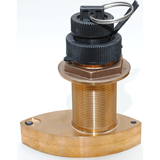 B744V
Showing top cap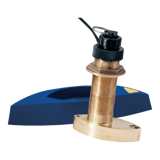 B744V
With high-speed fairing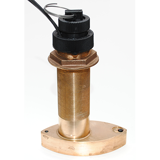 B744VL
Long-stem version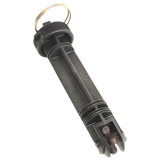 33-590-01
B744V Speed Insert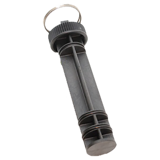 33-551-01
B744V Blanking Plug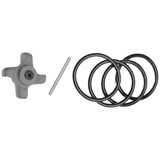 33-113
Paddlewheel Kit for B744V/VL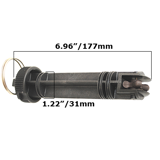 B744V Speed Insert
33-590-01 Dimensions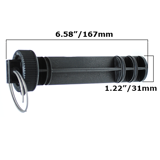 B744V Blanking Plug
33-551-01 Dimensions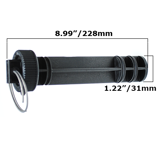 B744VL Blanking Plug
33-551-03 Dimensions