Mix and Match CHIRP Cables
Many CHIRP transducers are now made as Mix and Match models. These versions use a common base transducer with an attached 9-meter cable, plus an interchangeable short (1-meter) brand-specific adapter cable. Both parts are needed for an installation. The base transducer can be used with any brand of sounder by selecting the appropriate adapter.
The permanently-attached 9-meter transducer cable ends in an Airmar 12-pin female connector. This cable is run up through the boat to the equipment location. The short adapter cable has an Airmar 12-pin male connector at one end, to connect to the transducer cable, and a brand-specific connector at the other end to connect to the sounder or display.
CHIRP Mix and Match cables cannot be used with 600W or 1kW conventional transducers.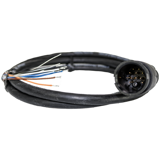 MMC-0
Bare wire connection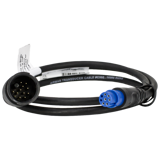 MMC-8G
Garmin blue 8-pin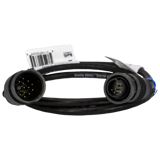 MMC-9N
Navico, Lowrance, Simrad 9-pin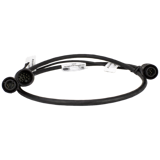 MMC-9N2
Navico, Lowrance, Simrad 9-pin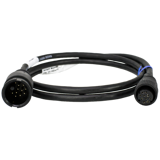 MMC-10F-HM
Furuno 10-pin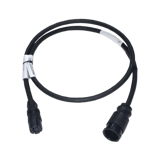 MMC-11R-HM
Raymarine 11-pin High, High-Wide, and Medium bands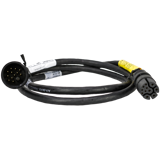 MMC-11R-LDB
Raymarine 11-pin Low and Dual-Band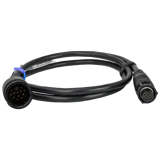 MMC-12F
Furuno 12-pin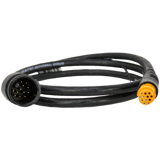 MMC-12G
Garmin orange 12-pin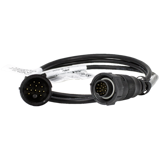 MMC-14HB
Humminbird 14-pin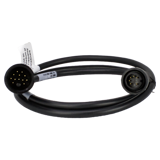 MMC-BB
Standard Horizon 8-pin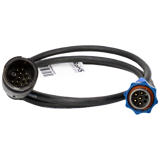 MMC-BL
Navico, Lowrance, Simrad blue 7-pin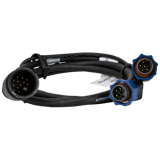 MMC-BL2
Navico, Lowrance, Simrad blue 7-pin dual-socket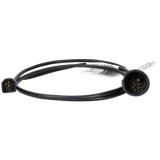 MMC-HB-L
Humminbird #9 Low band